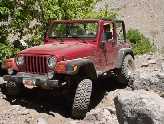 Red Jeep Club
"It's a Red Jeep Thing!"
The one and only Red Jeep Club.. If you have a Red Jeep (Or any other color really) you have found best internet site for Red Jeeps (as least I think so), Red Jeep Pictrues and Information, Jeeping trails, and Jeeping in the Red Rocks of Utah. You will find a lot of information and pictures to help you fix up your Jeep, Upgrade your Jeep, or just brag about your Jeep. This is the place where Red Jeeps unite and show their colors. As every Red Jeep owner in the world will quickly and proudly tell you. Red Jeeps are in some small (and secret to the rest of the Jeeping world) better than all other Jeeps on the planet. I would bet that if you took two Jeeps that were exactly the same except color (Right like that could happen, I know Jeep owners are the fastest people on the planet, maybe the craziest, to take a perfectly good, new, sound running Jeep and rip the insides out and replace them with something that is different and must be better. I am a perfect example. Brand new right off the show room floor I tossed the wheels and tires, put the stock suspension in a box and lifted my Jeep to new heights. I was out climbing the rocks of Delta and Moab Utah before I had even made a payment (On the Jeep or the credit cards.) ) Wow! I digress. Join us in our Jeeping quest, take a look around, and if you want to join just send me some jeeping pictures and a story.
I have been building brush guards and grille guards for many years now, I got a request last week for something new. I was impressed and so was the new owner, I featured the Jeep on the front page. It's even a sweet Red Rubicon TJ.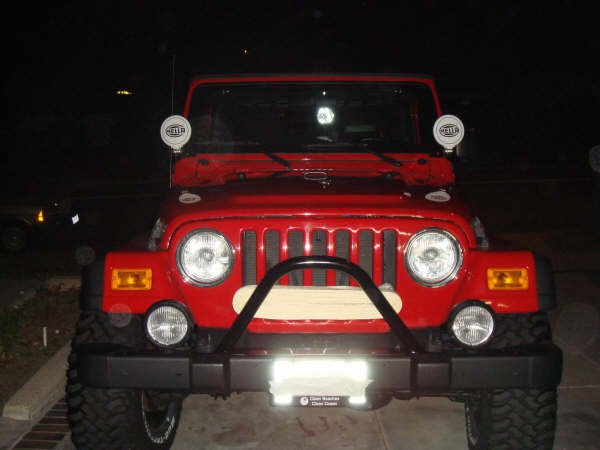 Lifted Jeeps , we have lots of pictures of our readers Red Jeeps.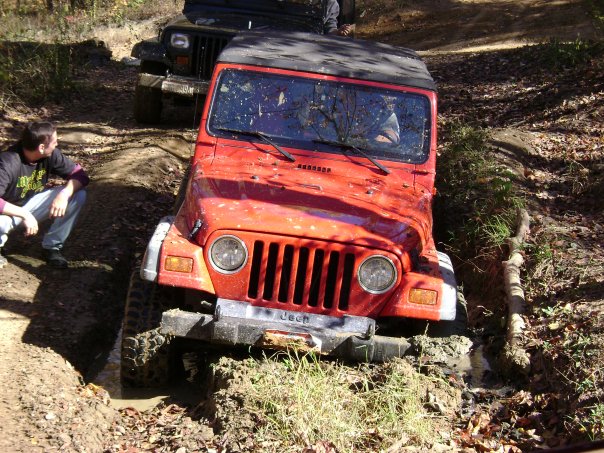 Here is a perfect example of a Red Jeep Club Member having a little fun. Wow Jason Lamping is in some serious muck right here.
Check out all the other Cool Pictures of Jason's Rig in the Members section
Also in our Members section we have tons of pictures of Jeeps with 1, 2, 3, 4, 5, 5.5 inch lifts. Everything from CJs, CJ8's, YJs, to TJ, and beyond. The Jeep Wrangler is a great platform to customize and we like to work on Jeeps as well as take them out and get them dirty. Look at our TJ question and answer section for more information about lifting and fitting tires under a TJ. A Jeep TJ is a 1997-2006 Jeep Wrangler. We haven't had much exposure to the JK Jeep Wrangler yet.
What else you will find here
Jeep Bumper and Jeep Bumper Hoops. I have been building bolt one Jeep TJ bumper Hoop Brush guards for years now. I am sorry to say that I do not have a version that will fit a Jeep Wrangler JK, but I may in the future.

We have a NEW online Red Jeep Club online Store. We are also featuring Tow Straps, Recovery Straps, and Tow Hooks. We also have a Complete line of Custom Bumpers and Brush Grill guards.

We expanded our Technical articles with detailed Jeep Wrangler TJ Q & A section on lifts and issues associated with modifying a Jeep. My Lifted 99 TJ page details all the changes I made to my Red Jeep. The TJ Questions and answer page details some of the issues and information I have learned. It includes help needed to lift and enhance your Red Jeep. Please look around, the Bookstore RedJeep Books has a large collection of outdoor, camping, four Wheeling books, maps, videos, DVD's, and outdoor related products. Camping gear, toys, flashlights, pocket knifes, and more..