.
"The Girly Jeep"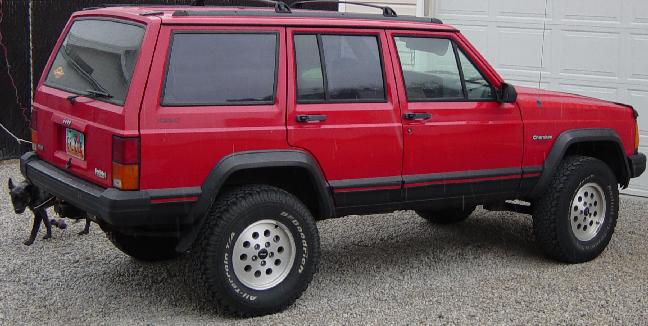 This is a 1993 Jeep Cherokee XJ, standing tall with a 4 inch Tera lift.

Details:

1993 Jeep Cherokee, XJ Sport 4.0 liter 6, It has about 150 thousand miles on the clock and is still running very strong. It has the basic factory option for the interior and exterior. this rig has done a number of trails in Moab, and Delta UT.

Modifications:

3 inch TeraFlex coils lift the front end.
Stock control arms

TeraFlex QD Quick Disconnect for front sway bar.
TeraFlex Budget Boost 1.5 inch shackle lift for rear springs.
Explorer add-a-leaf 1.5 inch spring for rear spring pack.
Doetsch Tech MV-12s shocks

BFG 31x10.50x15 AT Tires


Frilly Stuff

Custom cup holder made from a Fast Orange hand cleaner container.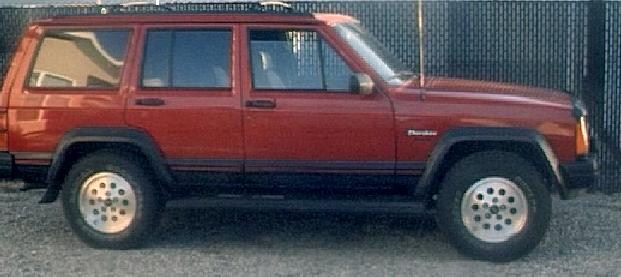 This is the Jeep in it's stock form

This shows the difference a small lift can make without too much cost or effort your rig will stand taller and look a lot better.

XJ Questions and Answers The information supplied here is my own perceptions and understanding of how products work. If I am way off base please let me know and I will quickly updated/debate the facts.

How do you lift a XJ and keep it from vibrating?
With this lift it is small enough that we didn't have any vibration problems. If you were going to run larger tires on a Cherokee then you would need to deal with The drive lines and angles etc. The street ride on this setup is really good, (At least I think so.) It's a bit softer and higher than stock, but now not as radical as some of my buddies rigs.

What size tires will fit on a stock XJ?
A stock XJ will clear about 28 inch tires tires without much need to modify the suspension. These are the typical 235x75 15 tires that most all SUVs come with. To go to bigger tires you will need more lift than a is needed on a Wrangler.

What kind of lift is needed to fit 32 inch tires?
If you want to clear 32 inch tires then you will need a 4 inch lift and rims with a 3 or 4 inch offset. On this setup we have used the stock rims but the wheel do rub the control arms when you are making a tight turn.

What kind of lift is needed to clear 33 inch tires?
On a XJ Cherokee a 6 inches lift will accommodate 33 inch tires. It is recommended that you get new wheels that have at least 3.75 inches of offset. Any good tire store will know what this means and set you up. But remember to bring your check book.
Once you attempt to go beyond a 4 inch lift on a cherokee you will get into some serious issues. The drive line angles will be too steep so you will need to do an SYE kit and a new rear drive line. You may have to re-do the steering, to eliminate "Death Wobble". Which is a serious and dangerous shacking of the front end when you hit a bump.
Other concerns with a Cherokee is the fact the the rig doesn't have a frame. It is a uni-body construction. This means the frame in built into the body. This is fine until you try to make a serious competition rig out of a XJ I have heard people say that the body/frame gets stressed and can develop tiny cracks.


What kind of lift is needed to clear 35 inch tires?
On a XJ Cherokee eight inches of lift will accommodate 35 inch tires. It is also recommended that you get new wheels that have at least 3.75 inches of offset.



What is a body lift and when do you need one.
An XJ is a Uni-body so you cannot put a body lift on it. The frame and body are built into one.
A body lift is a set of rubber bumpers, and longer bolts that fits between the Jeep body and the frame. They generally come in 1, 2, or 3 inch sizes. They allow the Wheel wells to open up or be farther from the axles thus allowing for larger tires. We all know that larger tires will lift the whole jeep above the ground. When a body lift is installed you will need to be careful that the radiator and shroud are properly positioned in front of the fan, so they don't rub. In my opinion a body lift can be a complement to a good lift kit, but is not a substitute.



---
RJC Home | Members | Official Spokesman
If you like this site or found it helpful please consider a donation.

Copyright © 1999-2011 RedJeepClub.com. RedJeep.com All Rights Reserved. All artwork, logo, and the name RedJeepClub.com, RedJeep.com are trademarks of RJC Enterprise. Jeep is a registered trademark of DaimlerChrysler.
NOTE: My email address is shown here in the picture with my Jeepin Dog. I had to put it in a picture so I wouldn't get so much spam email. If you have questions please email me.