This Technical article address's a very important part of owning maintaining and upgrading your Jeep or 4x4 rig. Your Jeep and or Bronco, Chevy Truck, or Toyota needs a complete set of Tow hooks a complete set includes 4 tow point, one on each corner. Two up front and 2 in the rear. You also need to carry a good heavy duty tow strap. But I will get to Tow Straps in another article. Tow Hooks are simply a recover connection point on your vehicle.

Why do you need tow hooks?
One day you will be out in remote area and even if you have the most capable Jeep or 4x4 on the planet, your friends will find a way to get stuck. You will then need to be the hero and pull them to safety. Or all joking aside no matter how careful you are at one point in your trail adventures you will be stuck, broken down, or both. At this time you will need help to safely recover your rig and get back on the trail.
Many different options exist.
Types of Hooks or Connection Points:
Factory Installed:
You can have a factory designed and mounted tow point. The Jeep Wrangler TJ comes with this as an option. Many other manufactures off this is an option as well. You may want to do a bit of research and see what is available from the dealer. As you can see in the picture below the factory tow hook for the Front bumper of a Jeep Wrangler. These factory mounted tow hooks are rated at 6,000 lbs. Which is plenty for the size and weight of the Jeep Wrangler. The after market hooks are rated at 10,000 lbs which give you an additional safety factory. You can never be too safe when it comes to vehicle recovery.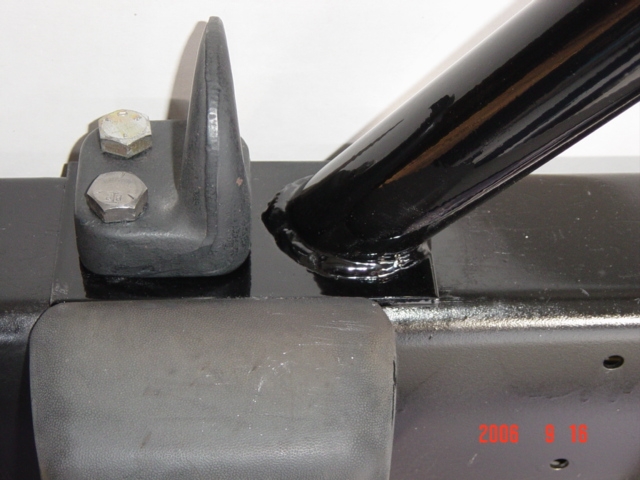 As you can see in this picture the Mopar Factory tow hook is a bit smaller than the After market option. It is also designed to be flush with the bumper.
After Market Replacement Hooks:
You can also buy an after market tow hook and mount it in the same place as the factory mounted tow hook as a replacement for the smaller factory hook, or as an upgrade if you Jeep Wrangler did not comes with Tow hooks.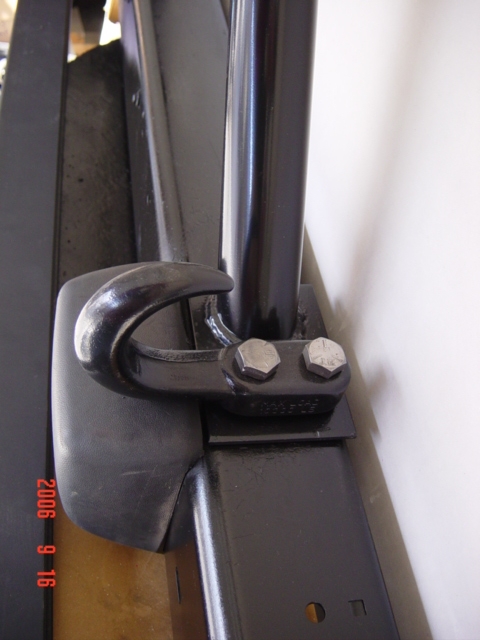 This shows a strong 10,000 lbs After market tow hook. You can see how easy it is to mount on top of the factory Jeep bumper. Also shown in this picture is an aftermarket bolt on brush guard hoop.
Bumpers with built in Clevis Mounts:
These are another good strong option. The Clevis point are easy to get to and use on the face of the bumper. Make sure that your bumper has these mount points cut into the bumper and that they are welded on both sides of the bumper for strength. The only problems I have ever seen with bumper mounted Clevis point, are 1) they rattle and bang and clang if left on the bumper at all times, or 2) they have the chance to vibrate loose and fall off. I have personally found and returned these to the owner on many occasions. If you don't leave them on the bumper at all times you also run the risk of leaving them in the garage and not having them in your rig when you really need them.

Rear Trailer Towing Receiver Hitch Mountings:
Your trailer hitch receiver mount is a strong connection to the rear of you vehicle. They are usually designed to be strong and have a rating equal to the weight of the vehicle. when using a receiver hitch make sure to us a strong tow hook that mounts in the receiver. Do Not use a trailer hitch ball. They are not designed for that much side force nor are they designed to hold the strap on. The strap could slide off and cause an serious injury.

Custom Hooks Bolted to the Frame:
I have a great place to mount tow hooks on a Jeep Wrangler. The rear frame under the rear quarter panel and tucked up under the bumper out of harms way. The Jeep frame already has some holes in it that are used during the production process. So you will not need to be worried about the integrity of the frame even if you have to drill one hole in the frame. This is what I did, I used a set of tow hooks that are designed to fit a Jeep YJ wrangler. I say this because the holes in these hooks are 3 inches on center vs. 1.5 inches apart that are needed for a Jeep TJ.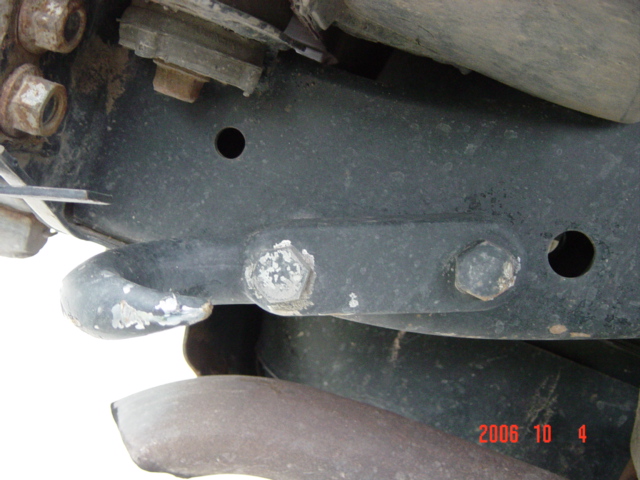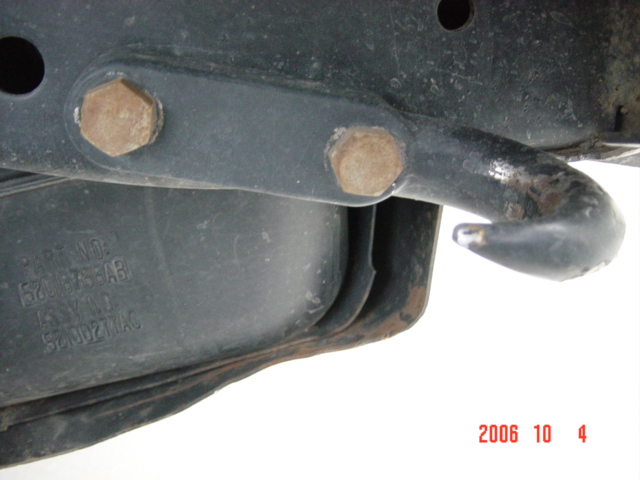 Using Your Winch and Winch Cable as a Tow Point:
BAD idea, it's just that simple, don't do it! The brake on the winch is not strong enough to hold the weight or the forces that are created when on rig try's to pull another one. Then once the brake on the winch lets go the gears inside the winch are not strong enough to hold forces either. I have seen a brand new Ramsey Platinum 9500 winch turned into a door stop in just a few seconds. A winch is designed to work slowly and smoothly in conjunction with it's motor.
Shown here is a typical winch cable, only use this for winching, not as a tow strap.