Red Jeep Club's collection of Technical Jeep and 4x4 related articles

Utah Mud Flaps.
Removable Mud Flaps of on road use, and easy removal of off road driving.
In Utah once you modify the suspension of a stock rig, meaning put on a lift kit, you are required to have the top of the tire covered and required to have mud flaps that cover the full width of the tire from the top down to the center of the axle. So basically full coverage of the rear top one half of the tire. This is the law, and it's also an easy way for a cop to find a reason to pull you over, etc. Well with this being said, just add some mud flaps and be done with it. The top half of the tire being covered is basically a way of saying they want the tire to be be part of the vehicle not sticking out a foot or 2 on each side. Rock Buggies are an example of this with tires really wide and bodies as small as possible. But a Stock vehicle can easily meet this criteria by installing an set of 6 or 7 inch wide flares. There are a number of companies that have these available.
BUT Mud flaps get in the way and continually get ripped off a rig when backing up into rocks. So the solution is a set of CPLMA mud flaps. Detachable, Cops Please Leave Me Alone (CPLMA) mud flaps. The idea is basically easy. I took at 1/2 inch rod and welded a section of 1/8 Steel 1 inch wide and about 6 inches long to the 1/2 round stock. This round bar was about 18 inches long. Long enough to cover the top of the mud flap and have about 6 inches left to attach to the bumper. For this I got a piece of 1/2 inch square box about 4 inches long and welded it to the top on my custom built bumper.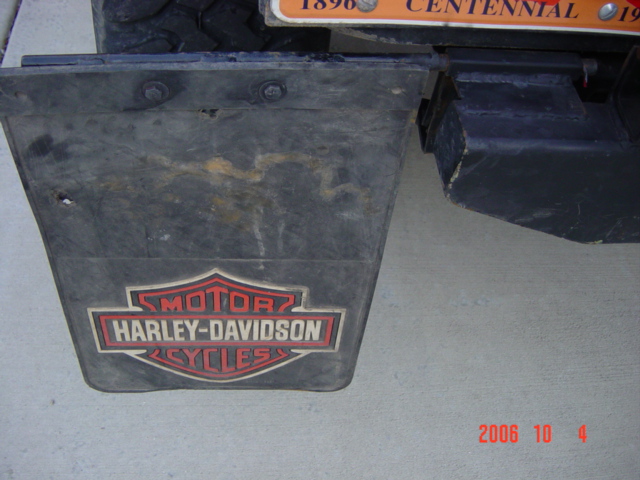 The final product is a mud flap with a round bar across the top that sticks out about 6 inches on the inside. This slides into the box on the top on my bumper and is held in with a spring clip. The round bar is able to swivel in the square box tube so if you leave them on when you shouldn't there is some amount of forgiveness. The mud flap is then bolted to the piece of 1/8 flat steel that you welded to the round bar.
In this picture you can almost see the flat steel weled to the round bar and you can almost see the slide in on the bumper. I will get some more detailed pictures soon.
---
RJC Home | Members | Official Spokesman
If you like this site or found it helpful please consider a donation.

Copyright © 1999-2011 RedJeepClub.com. RedJeep.com All Rights Reserved. All artwork, logo, and the name RedJeepClub.com, RedJeep.com are trademarks of RJC Enterprise. Jeep is a registered trademark of DaimlerChrysler.
NOTE: My email address is shown here in the picture with my Jeepin Dog. I had to put it in a picture so I wouldn't get so much spam email. If you have questions please email me.