Red Jeep Club's collection of Technical Jeep and 4x4 related articles


Who Needs a very nice heavy duty Tire Carrier? You do!
Jeep Wrangler TJ Heavy Duty Tire Carrier
Here is my tried and true simple design for the Carrier on My Red Jeep Wrangler TJ. This tire carrier was built while as my first attempt to make a heavy duty support for my tire a 33 x 12.5 BFG Mud terrain.
The bumper and tire carrier use different pieces of square steel tubing to make a strong and really cool looking tire carrier.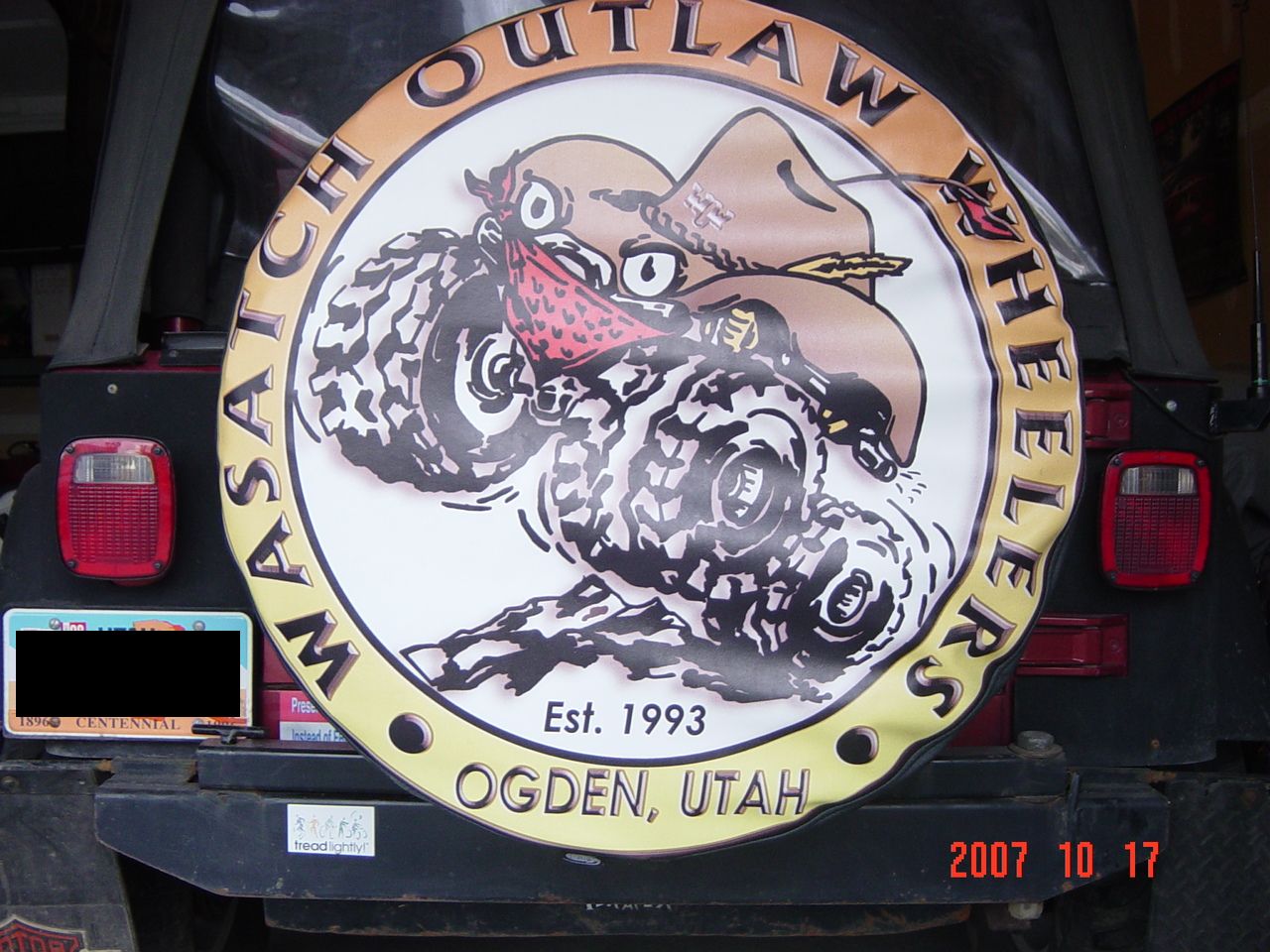 The tire rack is built out of 2 inch square tube with 3/16 wall thickness. It is strong and seems to work very supporting the weight of the tire. I built this after having the tire hang on rear tail gate for over a year. This was not good, the rear door on my TJ is now bent a little and the lower parts doesn't close like it should.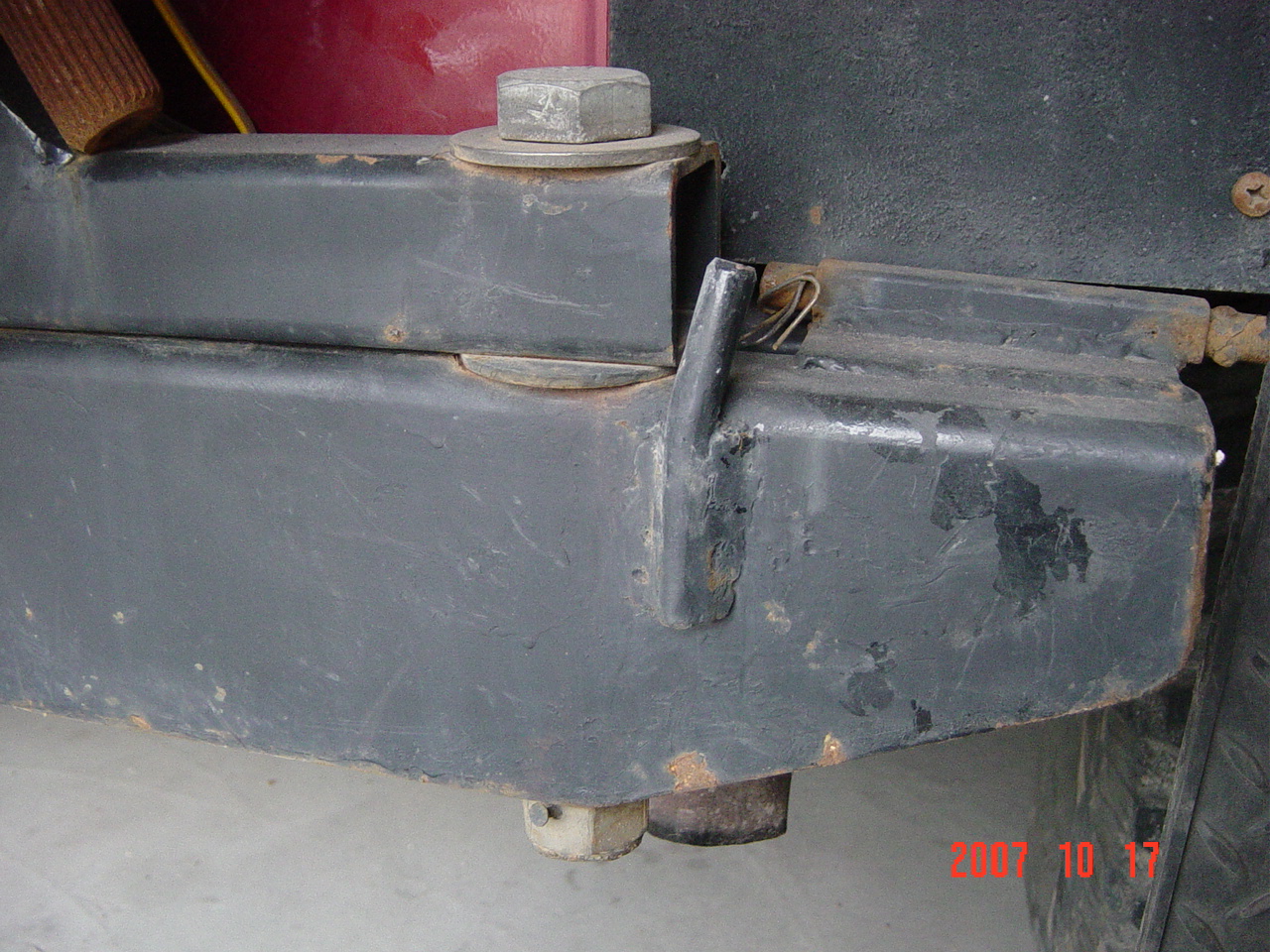 Here it is a shot from the the back with the big bolt for the hinge. I used a big bolt and no real hinge, I just cut a hole in the tire carrier and in the bumper and put the bolt down through. I did use some big washers on both top and bottom. Then I tightened the bolt up pretty tight and drill a hole through the nut and the bolt. Then I used an expensive 6 penny nail as a cotter pin. I didn't like the idea of this coming loose and falling off. You can also see the 1/2 round stock I welded in a vertical position to hold the carrier from opening too far. This is bent from all the weight of the tire carrier, so if you are doing this I would used something stronger.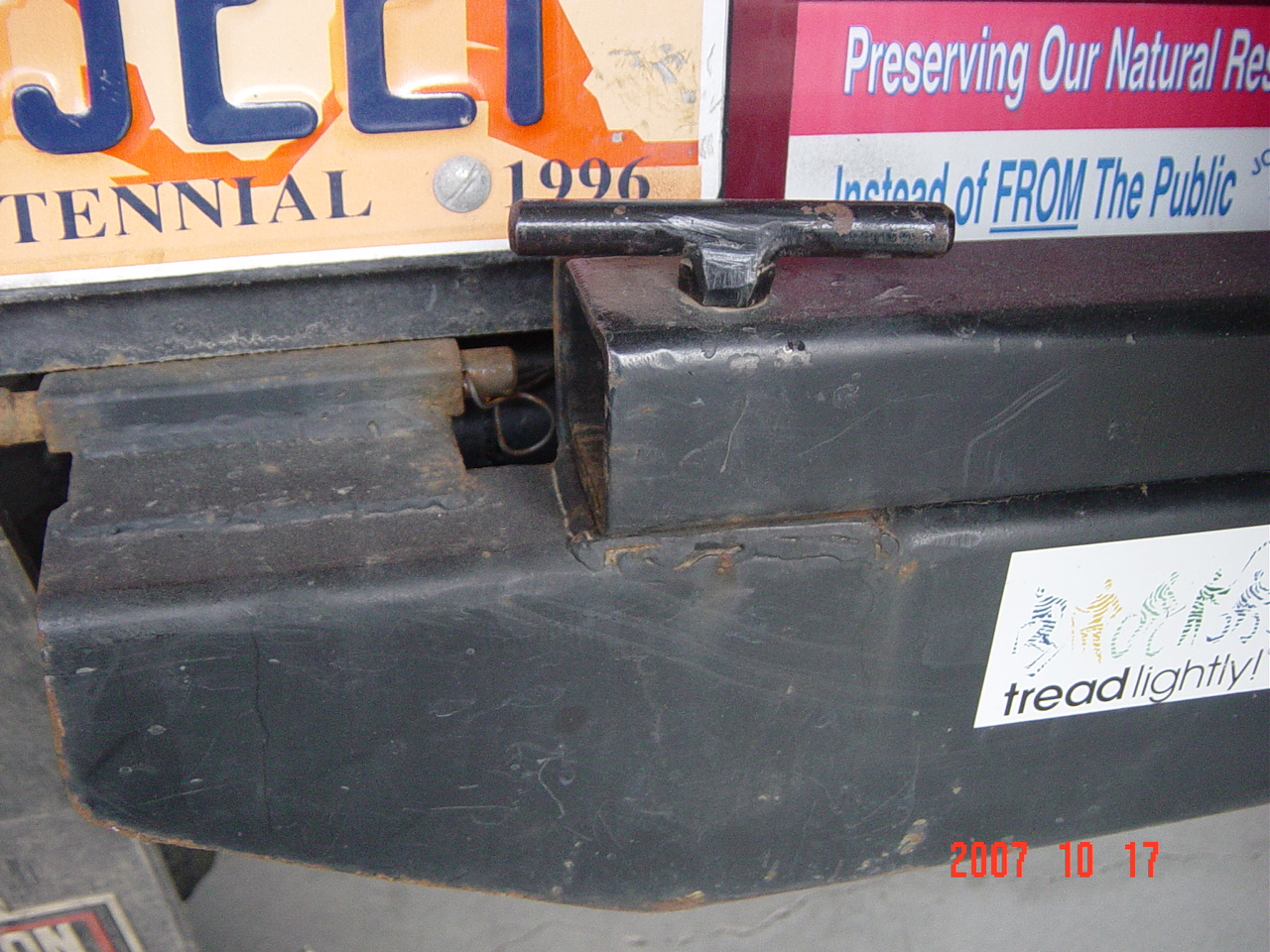 This is a shot of the latch. I used a 1/2 inch bolt and welded a handle on it. I put this vertical for easy of closing and I thought it would add extra strength. One thing is the handle is a bit small, I have a hard time getting it really tight so the whole thing won't rattle. In this picture you can also see the brackets I welded to the top of my bumper for my removable Mud flaps. For more details on my removable mud flaps read this other article on this web site.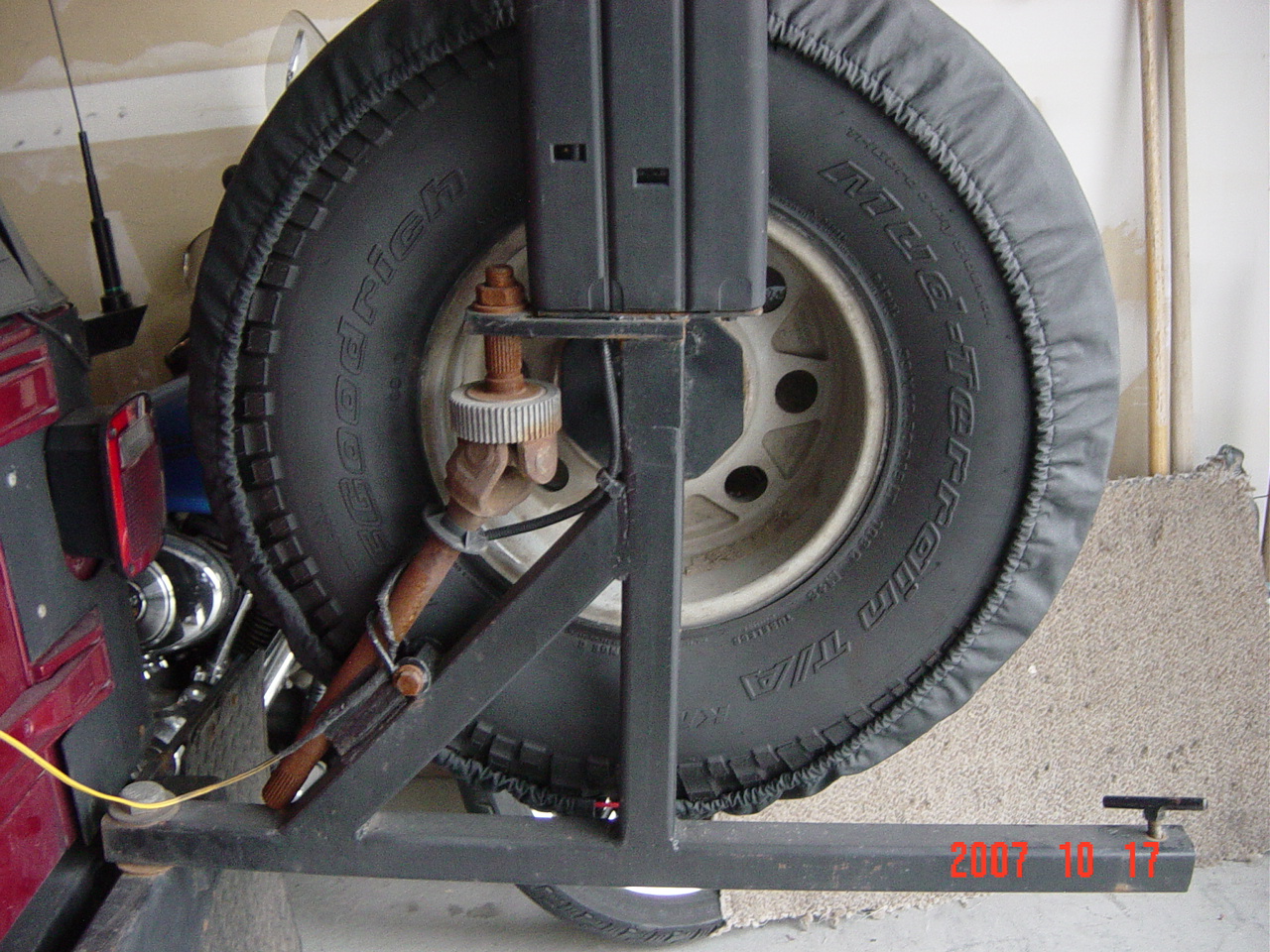 The backside of it shows the 2 tubes all meeting in the middle The up right tube is heavy 3/16 steel the angle bracket tube is 1/8 to save some weight. The upright tube is one piece the goes out to hold the tire. I just notched it out and bent it over and welded the three other side together. The single a frame bracket is lighter material and is fine for holding the upright in place without allowing any movement, which would cause fatigue and possible failure. As you can see I added a bracket to a hold a front inner axle shaft. I also had to add an extension and a plate to mount my third brake light. It's part of the Utah Safety Inspection laws here in Utah and it seems like a good idea to have a third brake light in the back.
This Technical article address's a very important part of owning maintaining and upgrading your Jeep or 4x4 rig. We all run big heavy over sized tires. The basic fact is the stock tire carrier on every Jeep every manufactured is not up to the task. So I am going to show you how I built a heavy duty tire carrier out of the 1.75 inch DOM tube. I will go through it step by set and give you the sizes and dimensions of each part and each piece.
I use some form of 2 inch box square tube for a bumper and tire carrier.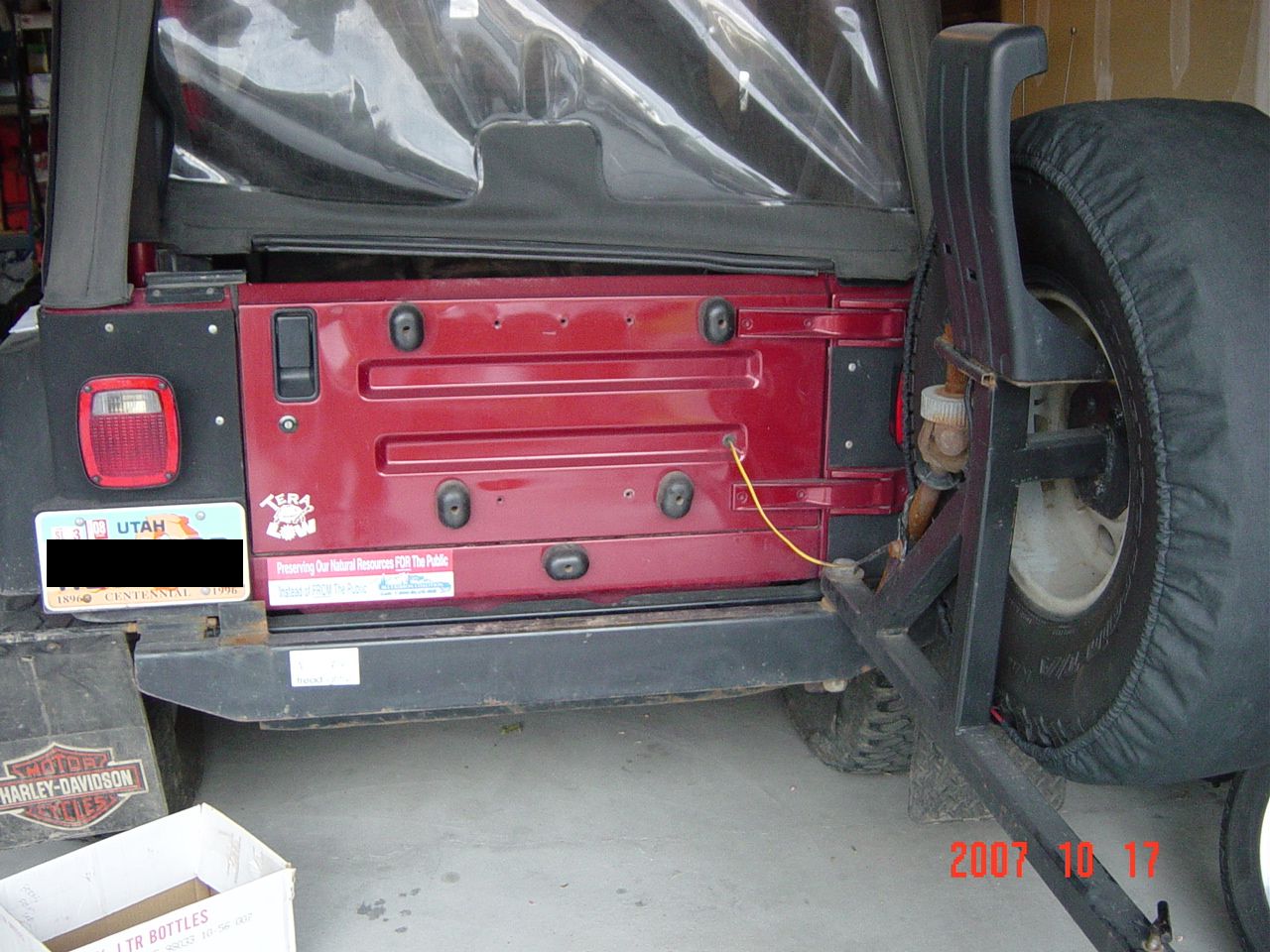 When you take a close look at this picture you can see a the way the spare axle and third brake light are attached. Another thing to notice is the bracket I made that holds the carrier closed. I used a piece of 2x2 90 degree angle. I drilled a hole in it and welded the 1/2 nut to the bottom if it. then I cut a 3/4 of and inch hole in the top of the bumper and set this piece on the hole so the nuts was down in the bumper. Then I closed the tire carrier and put the 1/2 bolt through the carrier and tightened it onto the angle bracket. Once everything was tight I lined it up and welded the 90 degree angle piece to the bumper. This way everything fit perfectly once I was done.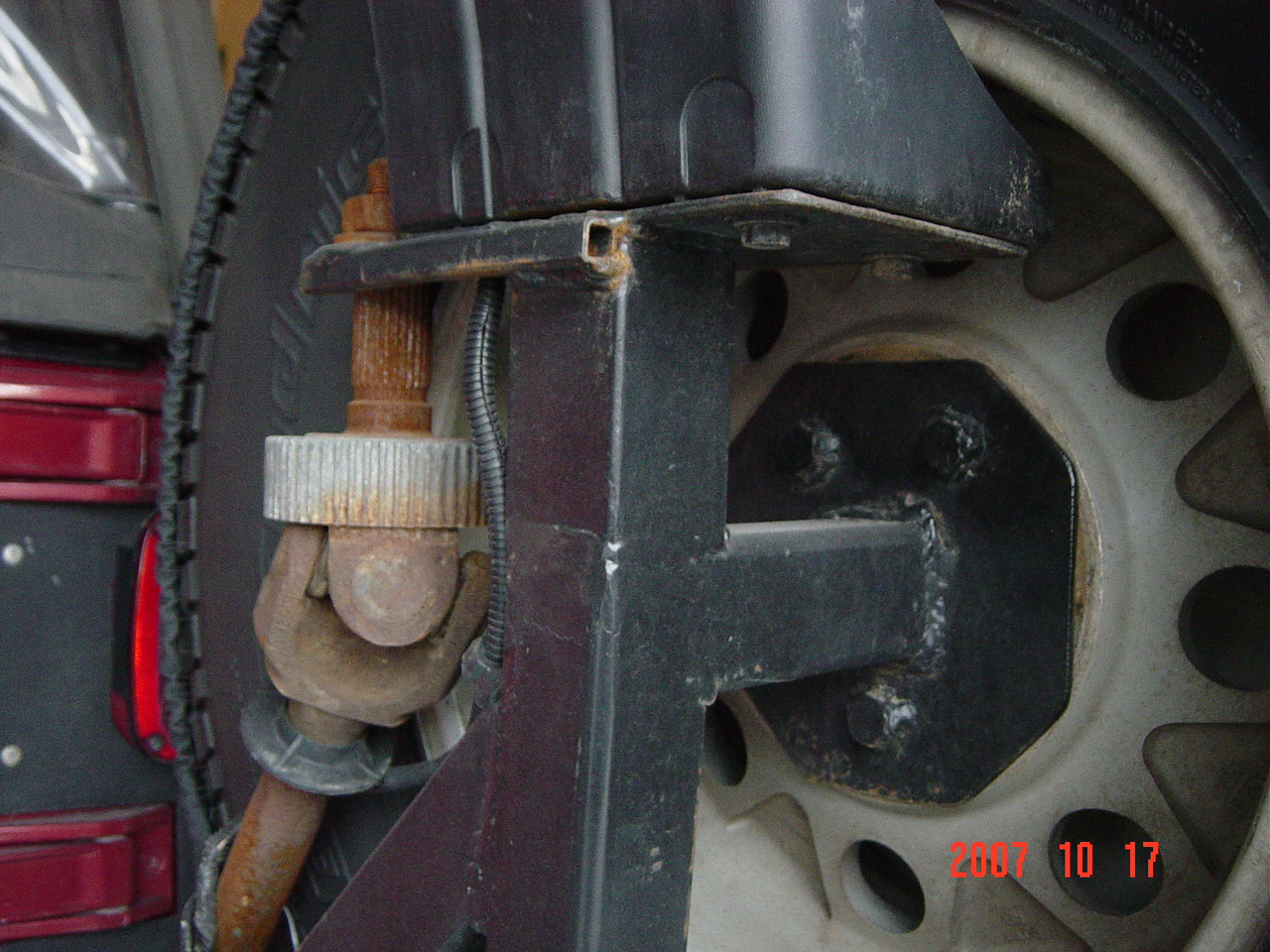 Here are some close up shots of the top bracket that holds the pares axle in place. I used a big washer and welded it to a piece of 1/2 x 1/2 inch square tube, then welded this to the tire carrier upright. Then I just put the axle through and threaded it on. The lower part of the Axle is held in place using a U shaped piece of thin metal welded to the angle bracket. Over the top of this I used a U shaped bar with washers welded to each end. Then I put a bolt through this to hold it in place. The designs seems to work well the axle has been one there for many trips and this even survived the Rubicon Trail in Nevada.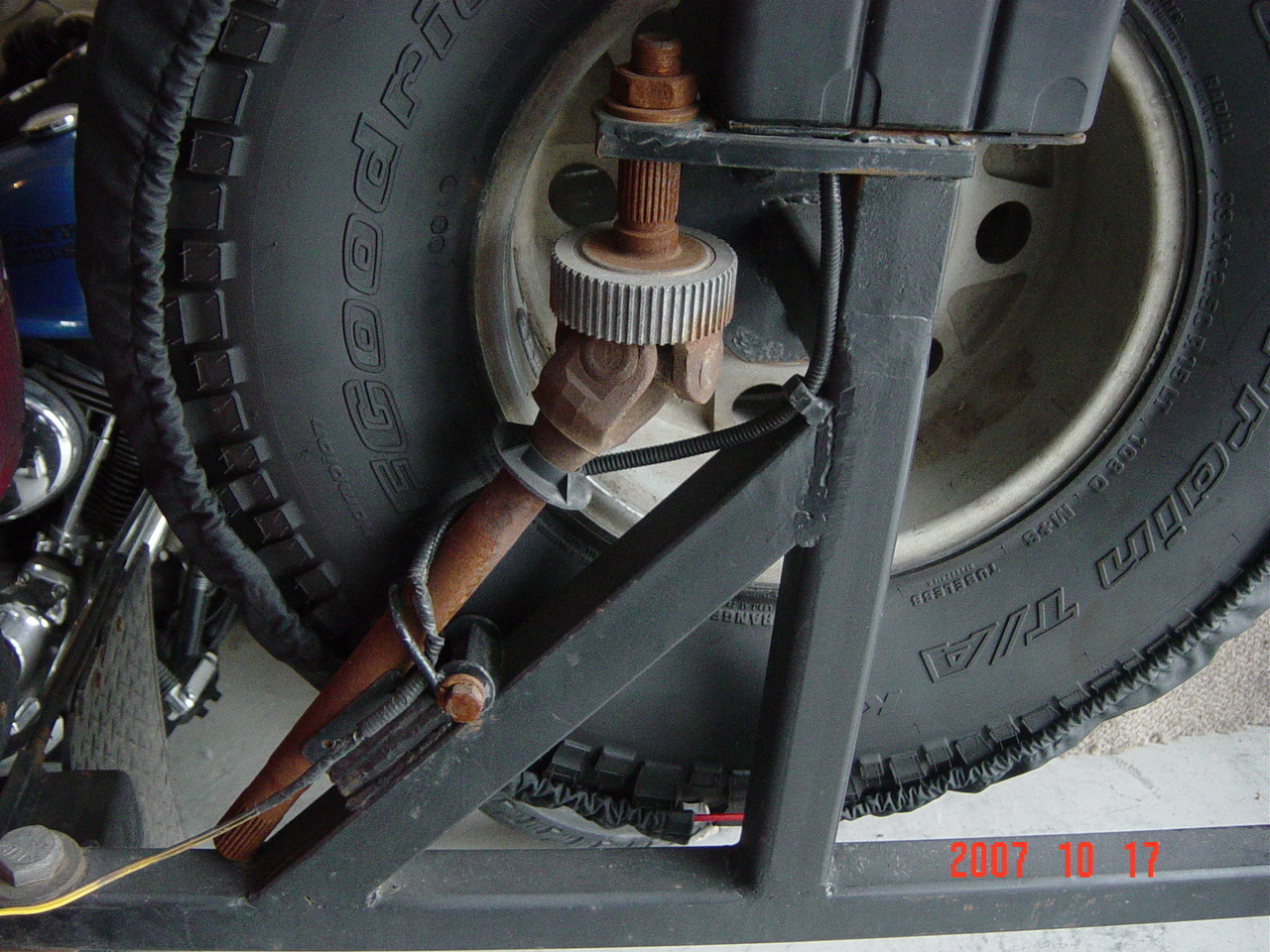 The factory wire for the third brake light was extended and threaded up the back of the carrier through a nut that were welded to the up right.
As a disclaimer, this was one of my first welding projects ever. I welded this is using a little AC Arc Stick welder. I built this in 1999 and have been bashing it ever since. Since then I have weld for hundreds of hours and upgraded to a 210 Amp MIG welder, so as they say you have some a long way baby.
Here are some final thoughts and things I learned after building this and some things I like about my carrier.

The big bolt that the top piece of the carrier swivels on is tight, thus making it hard to open. I must grab the handle and pull with medium force to open carrier. (.vs nice smooth ball bearing hinge = bad) Once I have the door open it stays open. When I park my Jeep at any angle on ground that is not level or lack of level for the jeep. This is important because the big heavy tire will not swing closed on me or my family and squish me. If is also helpful when I drive off and leave the carrier open, it doesn't swing wildly around, before someone points out my silly ness, and I stop and close it.

The latch is a 1/2 inch bolt with a 1/2 bolt handle. The way I did it makes for a small lever, so it's sometimes hard to open, (ie wife can't do it when I really tighten it down) Next time I would do the latch bolt horizontal. I would also put on a larger handle. I have had to replace this once as I bent it when I smashed the tire carrier into something like a big rock and bent it back into the jeep. Having a bolt as the closure helps hold the carrier tight and helps eliminate rattles.

I also would like a third brake light that is tire cap. But that won't work now I have the super cool Wasatch Outlaw Wheelers tire cover.

I have also considered building a fold down table into it as well. But that's one of those things I haven't done yet.

I would also consider making a couple of parts of it adjustable, but I would not want it to rattle. This one is built for a 33 in tire only.

You also need to be sure the window on your hardtop will still open when the tire carrier is open.
If you have questions about this or want me to get more detailed with measurement and sure send me an email. Thanks, Ian
---
RJC Home | Members | Official Spokesman
If you like this site or found it helpful please consider a donation.

Copyright © 1999-2011 RedJeepClub.com. RedJeep.com All Rights Reserved. All artwork, logo, and the name RedJeepClub.com, RedJeep.com are trademarks of RJC Enterprise. Jeep is a registered trademark of DaimlerChrysler.
NOTE: My email address is shown here in the picture with my Jeepin Dog. I had to put it in a picture so I wouldn't get so much spam email. If you have questions please email me.