Red Jeep Club's collection of Technical Jeep and 4x4 related articles


Who needs a very nice heavy duty Off road Jeep trailer? You do!
My Off Road Jeeping Trailer Part 1
My Off Road Adventure Jeeping Trailer Build
Page 1, Page 2, Page 3, Page 4 Page 5 Page 6 Page 7 Page 8 Page 9 Page 10 Page 11 Page 12 Page 13
Page 14
Page 15
Page 16
I am building an off road trailer to pull anywhere my Jeep will go. This is not your Dad's little Utility trailer for hauling garbage, this is going to be a full time off road, heavy duty trail trailer. I have a bunch of ideas and some initial designs here. Here is a picture of the final Trailer built and on the trail. Follow along as you see the build come together.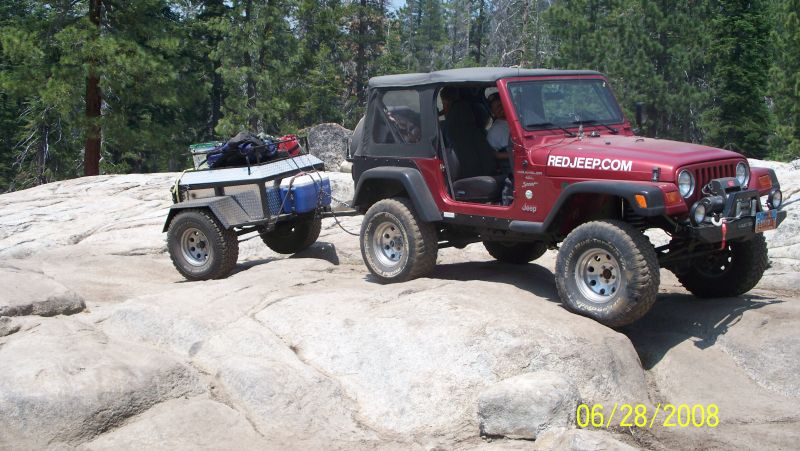 Goals:
Small: The back seat area of my TJ is basically 3 feet by 3 feet wide. I have a second layer floor in my TJ that is 12 inches high and under this area I can put 2 nice hard sided plastic boxes and some other stuff. This trailer is going to accommodate 4 of these boxes under the shelf.
Light: The lighter the better. My goal is to have the trailer and all the stuff I want to carry at 1000 lbs or less.
Convenient: This trailer must be easy to pull and get into. It must be easy to store and move around when unhooked.
I am trying to find out what size material to use for the base and the top box. I needed help with the size and wall thickness. Should I use 2x2 square tube, 1.5x1.5 square tube, Angle, or ??? for the frame and box of this trailer.

I am starting off using the plans another person (wildyoats) on RME used and built a trailer with 2x2 .120 wall for the base and .060 for the top box.

I would like to use 1.5 x 1.5 if I can get away with it. Lighter and well lighter smaller it would give me the same size box but allow for a narrower axle on the rear. I did finally decide of 2x2 .120 wall for the frame and 2x2 .060 wall for the sides.

The Trailer is basically 40 inches x 48 inches on 33 inch tires.

Anyone else want in on the Build. I am now complete and the project was very detailed and took me a lot longer than expected. I have all the material and now a good sets of plans so building another one should be a lot easier.

Here is the RME thread to check out.
http://rockymountainextreme.com/showthread.php?t=46932

Pictures: Click on any of these pictures to see a super larger version.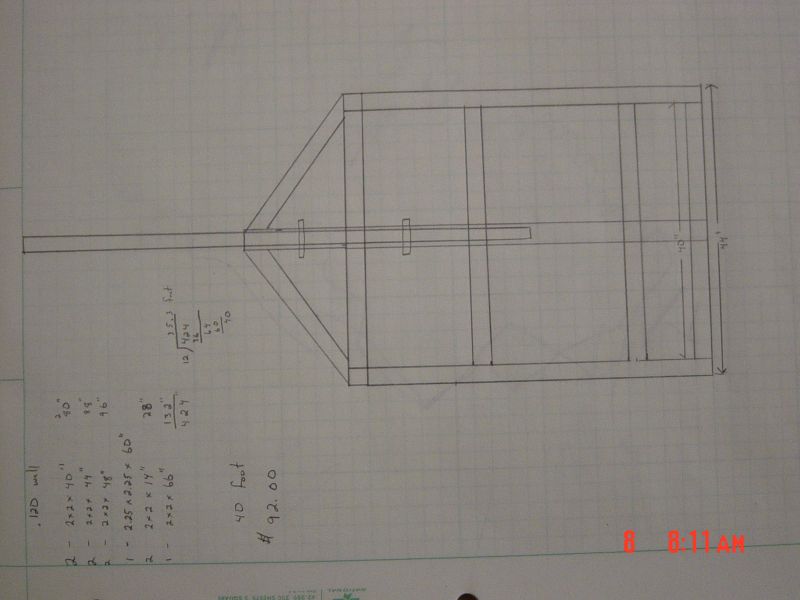 This is a top view of the off road trailer. Basically 44 inches by 50 inches. Floor Joists on 16 inch centers.
---

This is the side view of the trailer with a 33 inch tire in place. 24 inches high inside(later cut down to 17 inches), and 48 inches long inside. You will notice that the hitch/tongue and the channel that holds the hitch are two pieces. This is so the tongue can be collapsible. I want to be able to move the trailer right up next to my Jeep so when I put it on my flat bed trailer it will fit without making me buy a new trailer. This also shows a step on the front of the trailer It will be 12 inches long and angle in towards the tongue. This is where I will mount a battery and a propane tank.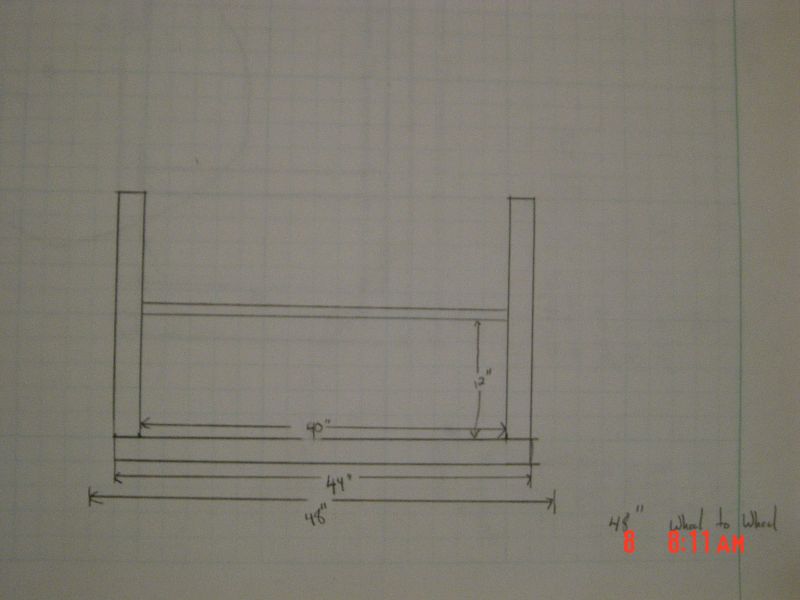 This is the rear view of the Trailer plans. If I use 2 inch square tube. Here you will notice the trailer is low on the passenger side. I want to do this to match my TJ which is low on the passenger side because the springs are collapsed. This is a common TJ problem. I will have a tail gate on the back of the box. I have not drawn it yet. But it will be a simple fold down gate.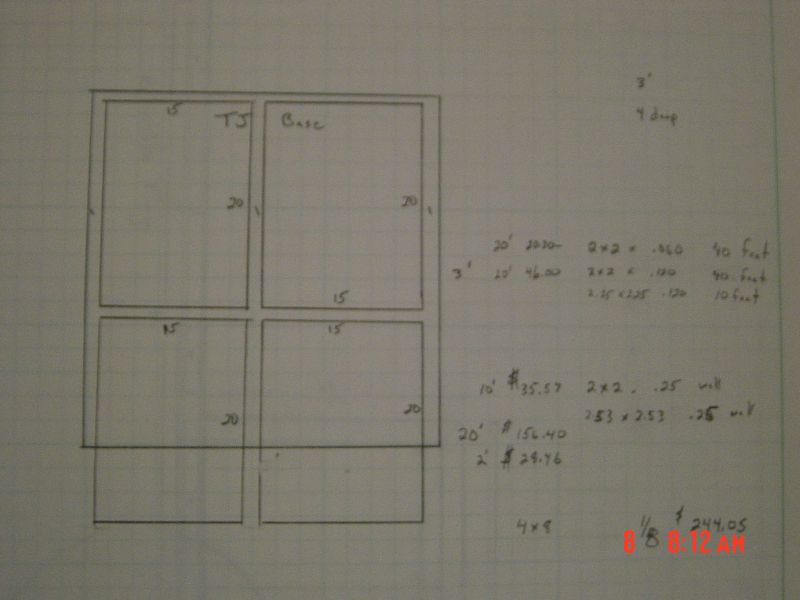 This is the rear area of a TJ with 4 plastic boxes overlays on it. This is how I decided on the dimensions of the trailer I want to construct.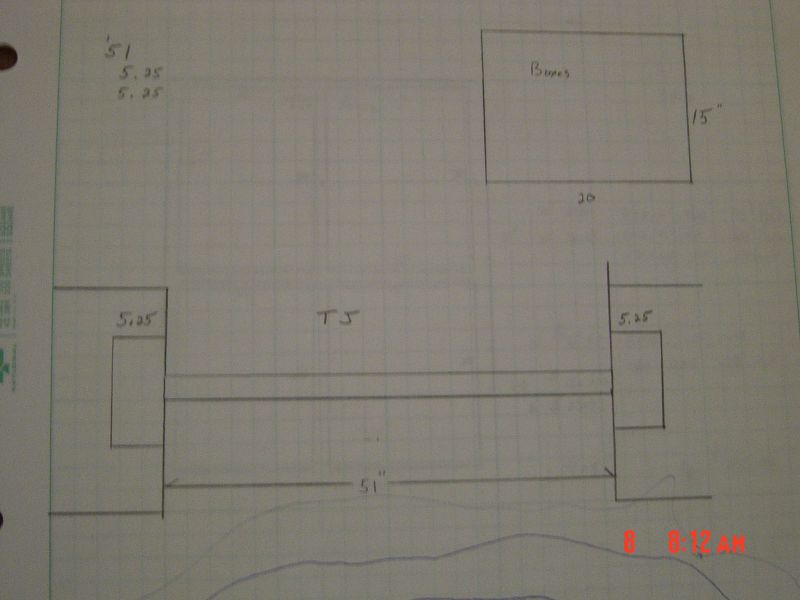 This shot of the TJ rear also shows the size of the plastic boxes I want to put in the base of the off road trailer. The 5.25 inches is the measurement from the inside of my Tires to the mounting point on the wheels. I am not sure of the exact width on my TJ axle. I will look that up or measure it when it warms up a bit outside.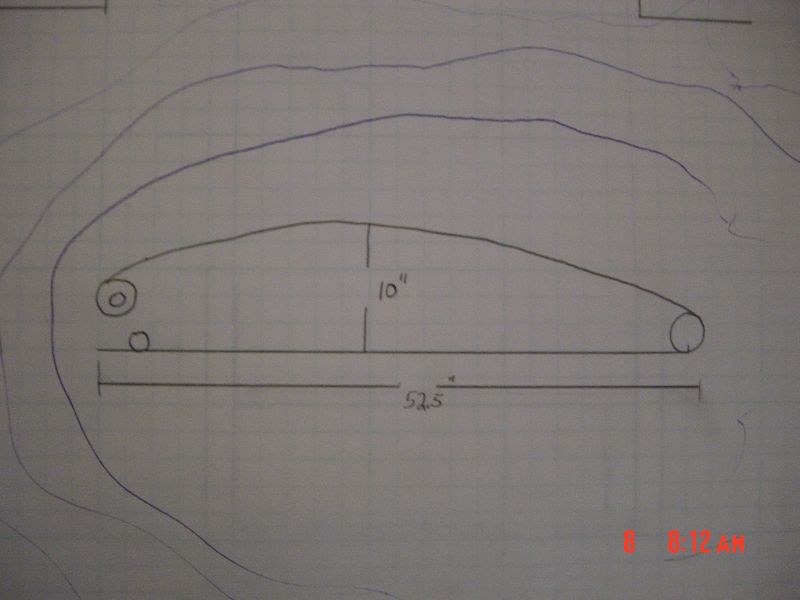 This is a quick drawing of the XJ Spring I have. Showing the length and the height of the spring. These will be full length of the trailer. Once I remove a spring or two from the spring pack they will probably work very well. I want to mount the axle toward the rear of the box, but am not sure right now if this will work correctly with the springs I have. I did not remove a spring from the pack, I was using an old set of springs and they had a lot of sag and flex. They were soft enough to work really well.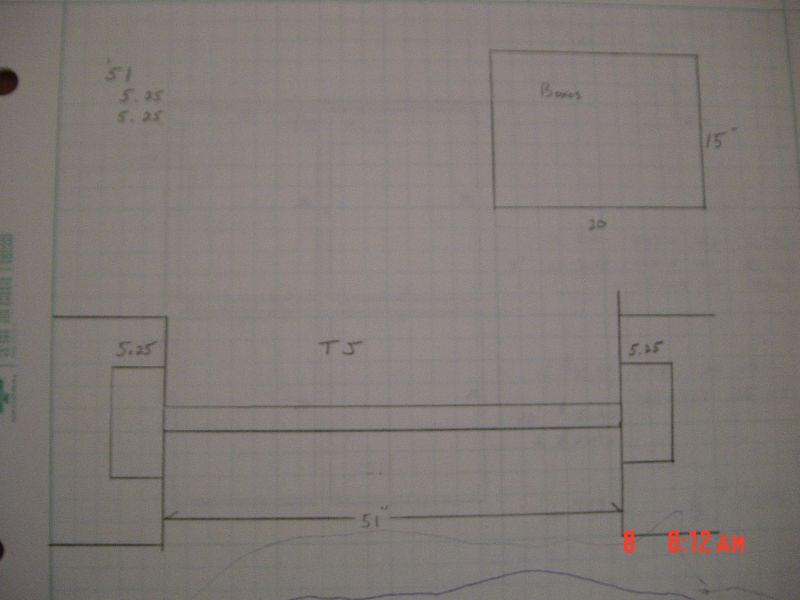 This is a quick drawing of the width of the tires on my TJ rear Axle. I want this off road trailer to have a narrower stance than the Jeep.
My Initial notes and thoughts, I have since revised some of the ideas.
Like I said I really like the look of this trailer and used it as a stating point. Check out this link to this Wild Yoats site. I will use a new axle with a brake from hendersons.

I am not sure of the trailer sizes yet. but I want a frame like in the wildoats example in post one. I will be designing it so the front and rear side panels on each side open up/hinge down to gain access to a plastic tote and double as a table. This idea was scrapped in the later stages of the build. I went for water a nd dust tight with access through the tail gate and top only.
Same way with a fold down tail gate. Water tight is an issue to think about. as noted above I have since figured out I cannot have the side fold down with a trailer this small.

For the top I like the idea of a big folding top, not sure if I want to put a tent up on top or not. I will be trying to gain the same area or more space compared to the back of my TJ without the seat.

Square tube? or Angle Iron? For the Frame 2 inch .120 wall, for the risers 2 inch .060 wall is what WildOats used is this OK or two heavy? to light? This turned out to be very strong. I could have gone smaller on the frame but this is very strong and won't buckle out on the trail.

Size, I want the Trailer axle to be a bit narrower than the wheel wide of my TJ, thus it has a bit of a smaller turning ratio for tight off road use. So I will designed the width of the body based on the tires, wheels, and clearance I need. Long tongue, axle toward the rear of the trailer body. The Black with Diamond plate looks good.

Costs and more detailed plans will follow ont he next 15-20 pages.
My 4x4 Off Road Trailer Build Page 1, Page 2, Page 3, Page 4 Page 5 Page 6 Page 7 Page 8 Page 9 Page 10
Page 11
Page 12
Page 13
Page 14
Page 14
Page 16
---
RJC Home | Members | Official Spokesman
If you like this site or found it helpful please consider a donation.

Copyright © 1999-2011 RedJeepClub.com. RedJeep.com All Rights Reserved. All artwork, logo, and the name RedJeepClub.com, RedJeep.com are trademarks of RJC Enterprise. Jeep is a registered trademark of DaimlerChrysler.
NOTE: My email address is shown here in the picture with my Jeepin Dog. I had to put it in a picture so I wouldn't get so much spam email. If you have questions please email me.