Lifted Jeep Pictures
Proud Members of the Red Jeep Club. Submit your picture and story. I will add you to these famous pages. Each page shows details and pictures of some of the best looking and working Jeeps. Check out the details and build your Jeep to match, then send your pictures this way. Or if you have a nice write up of something very serious and cool you have built on your rig. Please send it my way and I will make you famous.
Name: Dennis Waganaar.
City: Santa Fe.
State: New Mexico.

Dennis Waganaar from Santa Fe New Mexico drives a Chilli Pepper Red 1988 Jeep Wrangler.
Color: Chilli Pepper Red.
Engine: stock.
Cylinders: 6.
Transmission: .
Transfer Case: .
Front Axle: .
Rear Axle: .
Axle Gears: .
Crawl Ratio: .
Front Bumper:
Rear Bumper:
Tire Carrier:
Winch:
Favorite Trail: aspen medows hide park
Worst Breakdown: 10 miles out froum diablo canyon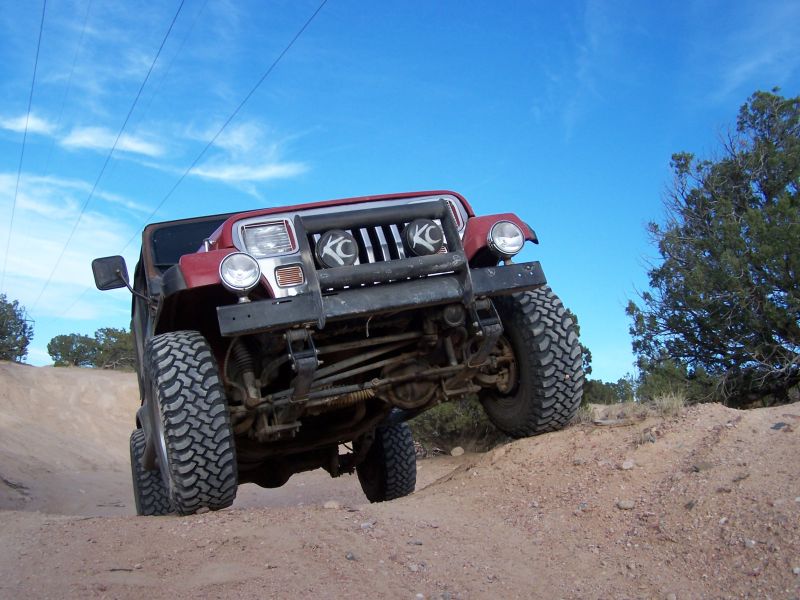 Here is a nice picture of the under belly of the beast.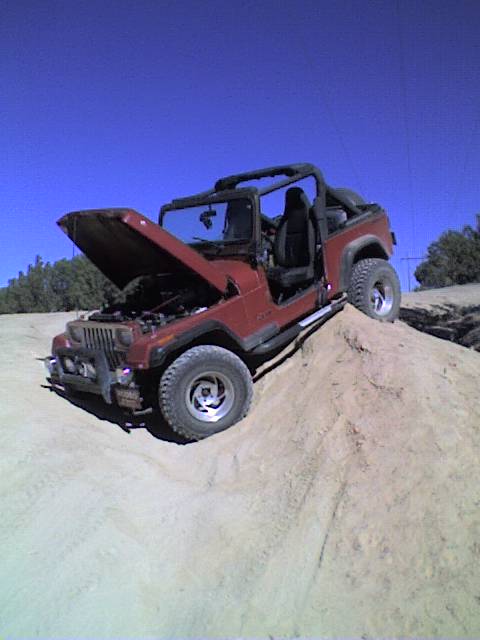 Here the Jeep is just getting some air taking a break, having a snack after a long nice climb up the trail. I hope he is not stuck.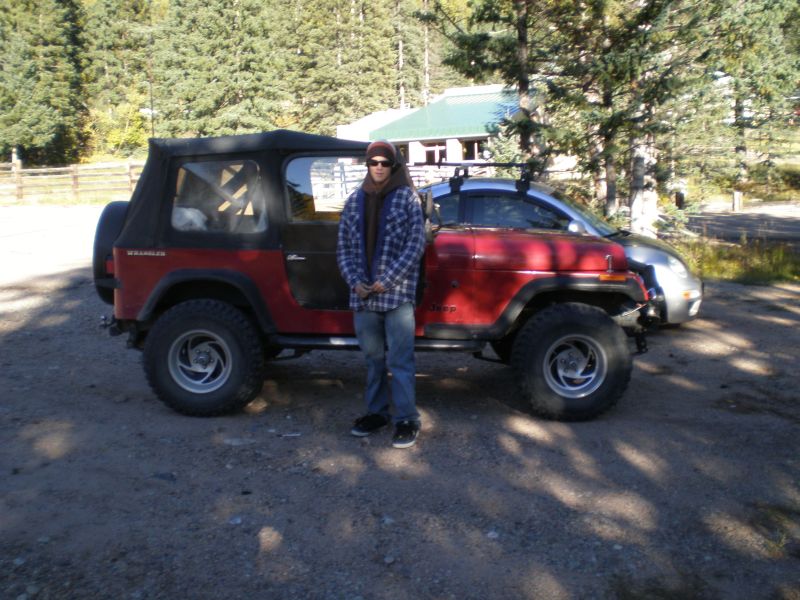 Parking lot shot are kewl.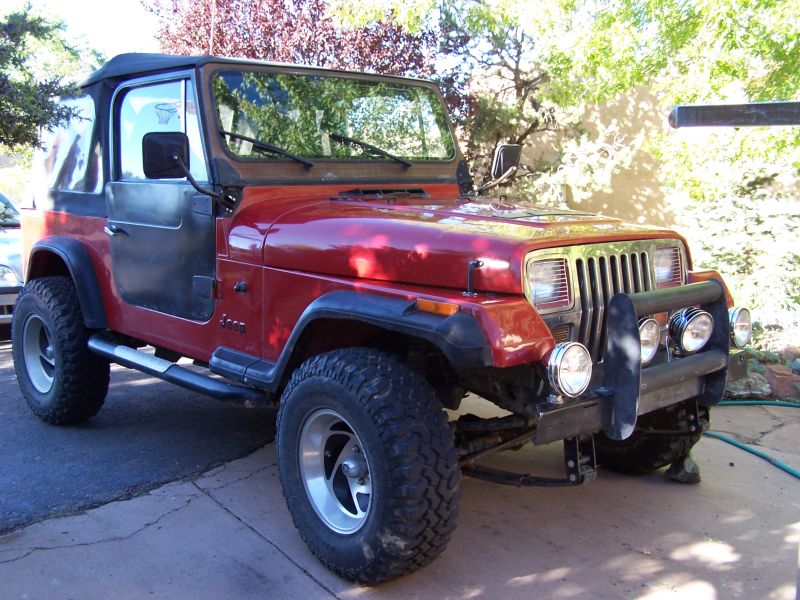 This is one good looking Jeep YJ. I bet Dennis love zipping around in the summer with no doors or top in the Deserts of New Mexico.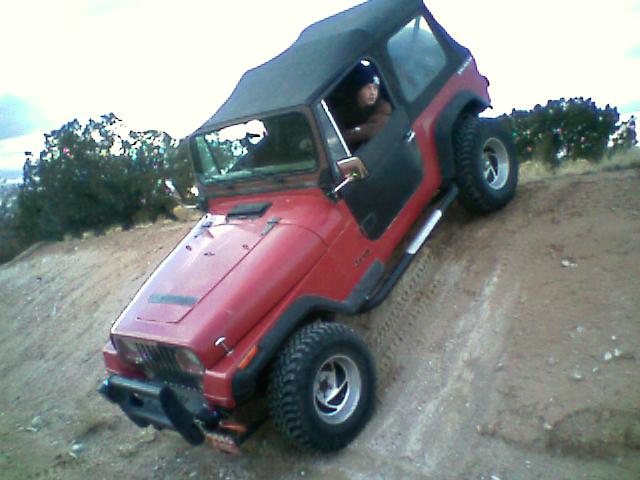 High action shot here.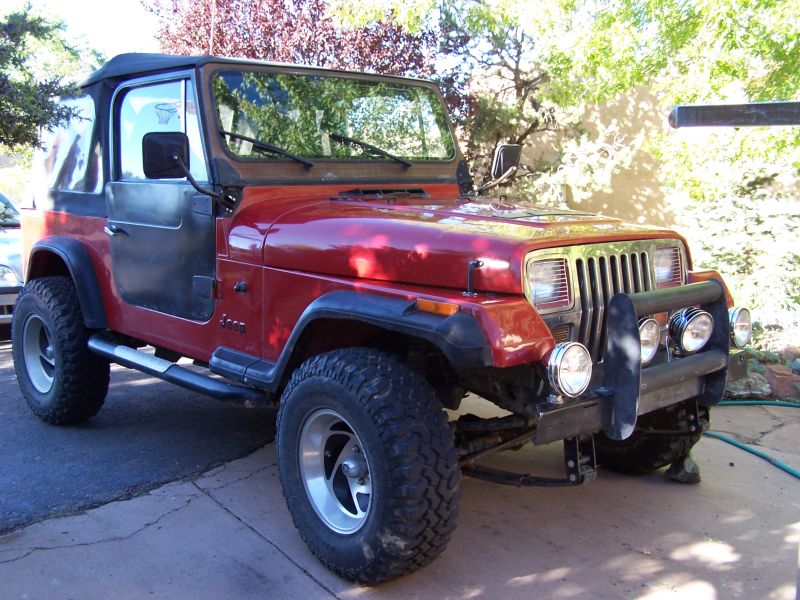 I do like this Jeep Picture.
---
RJC Home | Members | Official Spokesman
If you like this site or found it helpful please consider a donation.

Copyright © 1999-2011 RedJeepClub.com. RedJeep.com All Rights Reserved. All artwork, logo, and the name RedJeepClub.com, RedJeep.com are trademarks of RJC Enterprise. Jeep is a registered trademark of DaimlerChrysler.
NOTE: My email address is shown here in the picture with my Jeepin Dog. I had to put it in a picture so I wouldn't get so much spam email. If you have questions please email me.