Lifted Jeep Pictures
Proud Members of the Red Jeep Club. Submit your picture and story. I will add you to these famous pages. Each page shows details and pictures of some of the best looking and working Jeeps. Check out the details and build your Jeep to match, then send your pictures this way. Or if you have a nice write up of something very serious and cool you have built on your rig. Please send it my way and I will make you famous.
Jack Curtis from Salt Lake City
Is not new to Jeeping and has a sweet Jeep Checokee XJ. He is the newest memeber of the Red Jeep Club.
Jack says:
I drive a 1996 Red Jeep Cherokee and would like to become a member of the Red Jeep Club. Please advise if you require additional info.
Thank You
Jack Curtis
Well Jack this is a very good start, if you have any more details about your rig we would love to hear them.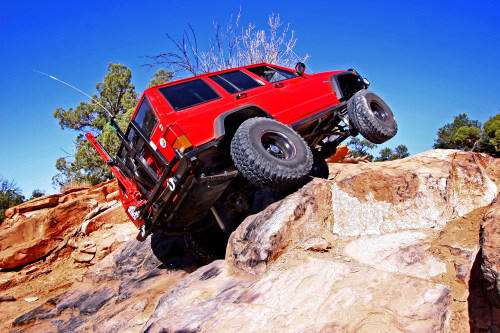 This picture show Jack getting some air on the Moab Utah Trail behind the rock. The obstable is call UpChuck.
This is a fun trail and a fun obstacle I have done it many times myself. Good Job Jack.
---
RJC Home | Members | Official Spokesman
If you like this site or found it helpful please consider a donation.

Copyright © 1999-2011 RedJeepClub.com. RedJeep.com All Rights Reserved. All artwork, logo, and the name RedJeepClub.com, RedJeep.com are trademarks of RJC Enterprise. Jeep is a registered trademark of DaimlerChrysler.
NOTE: My email address is shown here in the picture with my Jeepin Dog. I had to put it in a picture so I wouldn't get so much spam email. If you have questions please email me.