.
Lifted Jeep Pictures
Proud Members of the Red Jeep Club. Submit your picture and story. I will add you to these famous pages. Each page shows details and pictures of some of the best looking and working Jeeps. Check out the details and build your Jeep to match, then send your pictures this way. Or if you have a nice write up of something very serious and cool you have built on your rig. Please send it my way and I will make you famous.
Thomas in a Customized 1993 Jeep Cherokee XJ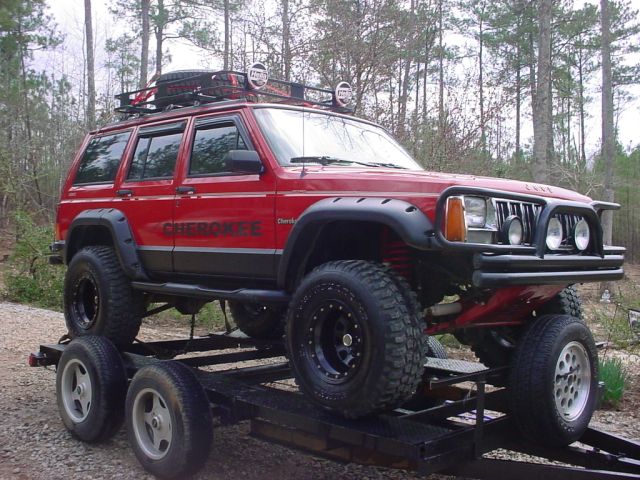 While we are on the topic of Cherokees, Here's one sent in by Thomas. He says "Here is my 93 XJ, 5.5in RE lift, 33's on simulated bead locks.
Front and rear Dana 35's Locked in the rear.
Gotta love a red grocery getting jeep. XJ's have always been nick named grocery getters, the funny part about this is they are so capable off road. The Wheel base is just right for having serious off road fun and still getting the family to the local super market."
But Thomas Is this really an Action Shot? On the trailer?
Well I guess it's better than the Quicky Mart Parking lot. Plus his jeep has all it's wheels on it. I am guilty of having pictures on this site of my Jeep is total dis-repair, so I guess I can't tease Thomas too much.
---
RJC Home | Members | Official Spokesman
If you like this site or found it helpful please consider a donation.

Copyright © 1999-2011 RedJeepClub.com. RedJeep.com All Rights Reserved. All artwork, logo, and the name RedJeepClub.com, RedJeep.com are trademarks of RJC Enterprise. Jeep is a registered trademark of DaimlerChrysler.
NOTE: My email address is shown here in the picture with my Jeepin Dog. I had to put it in a picture so I wouldn't get so much spam email. If you have questions please email me.