.
Lifted Jeep Pictures
Proud Members of the Red Jeep Club. Submit your picture and story. I will add you to these famous pages. Each page shows details and pictures of some of the best looking and working Jeeps. Check out the details and build your Jeep to match, then send your pictures this way. Or if you have a nice write up of something very serious and cool you have built on your rig. Please send it my way and I will make you famous.
Mike Norval, from Missouri Ozarks in a Customize Jeep Cherokee XJ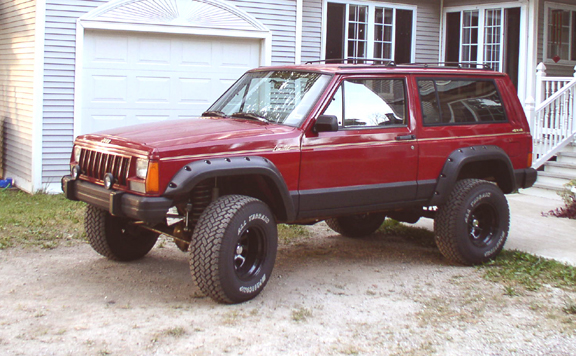 1223 Mike Norval says "What the RedJeepClub really needs is another red Cherokee, attached are two pictures, a before and after shot (you guess which is which). I started my Jeep to "man" it up a little (was too "girlie" for me also).
So far I have added a 3.5" Rubicon Express super ride lift,
Pro Comp AT 31x12.50x15 on 15x10 Tech1 Rock Crawlers (3.75" backspacing) wheels
Bushwhacker cutout flares
sprayon bed liner on the rockers and bumpers.
So far the most wheeling my Jeep has done is over the curb at the alignment shop. It spends most of it's time driving down the interstate in the Missouri Ozarks."
---
RJC Home | Members | Official Spokesman
If you like this site or found it helpful please consider a donation.

Copyright © 1999-2011 RedJeepClub.com. RedJeep.com All Rights Reserved. All artwork, logo, and the name RedJeepClub.com, RedJeep.com are trademarks of RJC Enterprise. Jeep is a registered trademark of DaimlerChrysler.
NOTE: My email address is shown here in the picture with my Jeepin Dog. I had to put it in a picture so I wouldn't get so much spam email. If you have questions please email me.